Published: September 2020
Grand View Research
The global COVID-19 detection kits market size is valued at USD 3.28 billion in 2020 and is expected to grow at a compound annual growth rate (CAGR) of 5.05% from 2021 to 2027. Several nations are engaged in the development of kits and apps along with tracking programs for mass testing. The COVID-19 smartphone app established by Britain uses Bluetooth signals to identify COVID-19 affected individuals. This centralized approach also provides detailed data pertaining to the symptoms and risks of infection. Such initiatives accelerate the detection of infected patients, which further impacts revenue growth. Manual testing, pitfalls in read-out timing, and visual reporting lead to uncertain outcomes compared to automated tests. In regard to this, QIAGEN has developed an easy-to-use digital test, known as Access Anti-SARS-CoV-2 Total, in August 2020. This serology test is conducted on a portable digital device to offer reliable results in 10 minutes and mitigates such risks. The availability of smart testing solutions is expected to boost market growth in the near future.
In recent times, the utility of serology tests has expanded with the initiation of multiple SARS-CoV-2 serological surveys globally, thus propelling the demand for these tests. For instance, the National Institutes of Health serosurvey includes investigation of blood samples of over 10,000 U.S. adults with no confirmed history of coronavirus infection to detect anti-SARS-CoV-2 protein IgM & IgG antibodies. It also includes additional tests to evaluate immune responses of volunteers to the virus.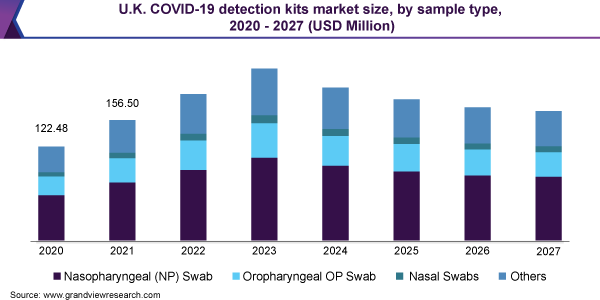 Most of the countries have expanded testing sites by the establishment of drive and walk-through testing centers. These testing centers reduce the waiting time as well as minimize the risk of contagion to healthcare professionals. At-home sample-collection techniques have also emerged as comparatively safer options for the detection of the coronavirus. The confluence of these factors addresses the challenges pertaining to the shortage of supplies and a limited number of testing sites.
The advent of new cutting-edge testing technologies to mitigate the adverse impact of the current pandemic is anticipated to foment the organic revenue growth of players engaged in supplying detection kits. For instance, a large-scale next-generation sequencing (NGS) technology exhibits the potential to run up to 100,000 pooled samples in a single instrument within 8 to 12 hours, which escalates the testing capacity. Although these technologies are still in the research phase, they provide lucrative opportunities for market progression in the forthcoming years.
Products Insights
RT-PCR assay kits are estimated to account for the maximum revenue share of 67% in 2020. Most of the commercially available kits rely on the reverse transcription-PCR technique owing to its high specificity and sensitivity. Recently, in May 2020, Rutgers Clinical Genomics Laboratory developed the TaqPath COVID-19 Combo kit that facilitates RT PCR testing using saliva specimens at home, offers a rapid and less painful detection with higher volume testing.
Furthermore, RT-PCR tests are rapidly evolving in terms of enhanced and more automated detection procedures. For instance, GenMark Diagnostics, Inc. introduced the ePlex SARS-CoV-2 test that utilizes the True Sample-to-Answer Solution, an ePlex instrument, designed to detect SARS-CoV-2 in nasopharyngeal swabs. The modular and expandable design of the ePlex instrument enables near-patient testing widely accessible to meet the requirements of various healthcare settings.
Immunoassays test strips are promising tools for the first-line diagnosis of COVID-19 during the ascendant phase of the pandemic and are anticipated to register the fastest growth rate. This is attributive to several benefits of these products, such as no requirement for expensive equipment and chemicals and trained specialists making them more affordable and easily available as point-of-care (POC) tests. Faster results and scalability are other factors driving the segment growth.
Sample Type Insights
Nasopharyngeal swabs (NP) are estimated to dominate the revenue share with more than 45% in 2020 owing to the high usage of NP swabs for molecular testing. The service providers are expanding their testing capabilities by signing an agreement with swab manufacturers for a bulk supply of swabs. For instance, in August 2020, the Commonwealth of Virginia collaborated with UVA School of Engineering to obtain 60,000 nasopharyngeal swabs per week in order to support high-priority coronavirus testing.
Also, teams from USF Health Radiology and Northwell Health System have developed a 3D-printed nasopharyngeal swab in August 2020 as a cost-efficient and fast alternative to the conventional NP swabs. Major service providers including LabCorp and Quest Diagnostics are seeking to use this new swab type for an effective testing process.
On the contrary, the development of new serology tests that rely on blood specimens is anticipated to spur the usage of kits. For instance, researchers at Monash University have developed a new blood test that can detect positive cases in 20 minutes. Furthermore, ongoing large scale geographic seroprevalence surveys to estimate the number of people infected with the SARS-CoV-2 but were not included in official case counts; boost the revenue growth in this segment.
Mode Insights
Detection kits for centralized or laboratory testing are currently dominating the COVID-19 detection kits market with a revenue share of around 68% in 2020. Usage of automated high throughput laboratory platforms enables laboratories to efficiently process a high number of samples while maintaining a high level of quality and integrity of the result. These factors have contributed to make centralized testing a critical element in a successful COVID-19-response strategy to contain the spread.
POC testing, such as rapid antigen tests, is relatively less reliable in terms of result accuracy owing to their low sensitivity. However, the constant increase in fatality rate is anticipated to catalyze the decentralized testing mode, particularly in the emerging markets with the most fragile and underfunded healthcare systems. This is expected to significantly foment the use of antibody testing strips and rapid antigen testing kits. Thus, both testing modes play a vital role in mitigating the adverse impact of the pandemic.
End-use Insights
The laboratories segment is projected to account for a revenue share of 40% in 2020, resulting in its dominance over other counterpart segments. A constant increase in laboratory capacity by the expansion of testing portfolios in existing centers as well as the establishment of new, high-capacity laboratories maximizes the adoption of detection kits. Strategic alliances among the public-health organizations, government, private laboratories, and equipment manufacturers can accelerate such efforts.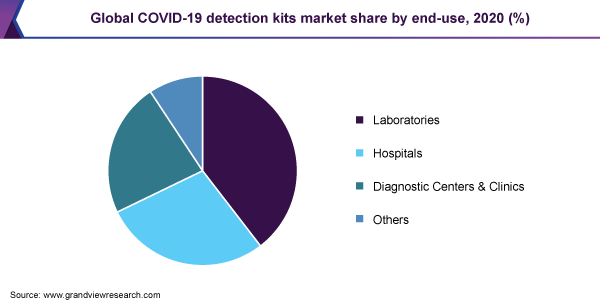 For instance, in April 2020, Novacyt, a French diagnostic company, collaborated with GlaxoSmithKline, AstraZeneca, and the University of Cambridge to increase testing for COVID-19. Under this collaboration, a new testing laboratory would set up by GlaxoSmithKline, AstraZeneca, and the University of Cambridge at the Anne McLaren laboratory of the university. The new facility uses alternative chemical reagents for kits to overcome supply shortages in the U.K.
Diagnostic centers and clinics are projected to grow at the fastest CAGR during the forecast period due to numerous efforts undertaken by several entities. In August 2020, Kroger Health expanded its testing portfolio by launching a COVID-19 testing program for employers- COVIDCare Plus that deploys a self-administered collection method for clinical processes. This program provides a rapid, interim testing solution, and enables the company's in-store clinics to have a testing capability of over 5,000 patients per day.
Regional Insights
Asia Pacific is estimated to dominate the market with a revenue share of 36.88% in 2020. This is attributed to the continuous upsurge in coronavirus cases in Asian countries such as India, a rise in the number of diagnostic facilities, and the implementation of mass testing programs in this region. As of June 2020, Wuhan, a province of China, completed the mass testing of its 11 million individuals and ended up with 206 positive asymptomatic cases of COVID-19 in Wuhan.
The supportive government initiatives also surge the demand as well as usage for COVID-19 detection kits in this region. For instance, in June 2020, the Indian Council of Medical Research, India, planned to expand the utilization of rapid antigen-based coronavirus tests instead of RT-PCR tests for more rigorous COVID-19 detection. These rapid diagnostic tests are characterized by minimal biosafety hazards and thus are widely accepted by the service providers.
North America is anticipated to witness the fastest growth rate during the forecast period. The U.S. is the worst-hit country with the highest number of COVID-19 cases globally accounting for more than 6 million cases in the first week of September 2020. Due to this, regulatory bodies, such as the U.S. FDA and Health Canada, are continuously granting the Emergency Use Authorizations (EUA) to coronavirus test kits to boost the testing capacity, which fuels the region's growth.
Key Companies & Market Share Insights
Market participants are incessantly developing several types of kits for the detection of SARS-CoV-2 infection across the globe. Such new product development initiatives along with partnership and collaboration models, agreements, business expansion, and merger and acquisition strategies are undertaken by the company as a response to the rising demand for COVID-19 test capabilities globally. This is expected to intensify the competition among key participants in future market space. For instance, in August 2020, PerkinElmer, Inc. entered into a public-private partnership with the California government to provide up to 150,000 new daily tests initiating from mid-November. The partnership also focuses on the lowering of the overall cost per COVID-19 test to nearly USD 47.99. This initiative is anticipated to double the capacity of COVID-19 tests and further strengthens the market presence of Perkin Elmer in the global market. Some of the prominent players in the COVID-19 detection kits market include:
F. Hoffmann-La Roche AG
Perkin Elmer, Inc.
Thermo Fisher Scientific, Inc.
Veredus Laboratories
DiaSorin
altona Diagnostics GmbH
Mylab Discovery Solutions Pvt Ltd.
Abbott
Luminex Corporation
Quidel Corporation
Becton, Dickinson and Company